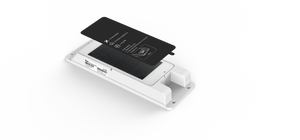 Sirius Technologies
Flex Solar Asset Tracker
Sale price Price $394.00 Regular price
The Flex asset tracker is a device ideal for asset inventory. Knowing the location of all trailers every morning from the once a day heartbeat can significantly improve asset utilization and the right sizing of your asset inventory. By selling off a single underutilized asset, you can fund a GPS tracking and telematics platform for most fleets for a lifetime.
When an asset is in motion the Flex devices recognizes the movement through an accelerometer and switches from inventory tracking to active tracking. When actively tracking, the Flex asset tracking will plot and transmit the trailer at a rate of once per minute. This optimized tracking provides fleet managers with the right data for the situation which keeps data costs as low as practical. 
The Flex asset tracker brings many great features to the Geotab modular platform. The solar panel enables the device to provide more detail and last longer than devices that do not have a recharging capability to either internal or replaceable batteries. The solar panel gives the Flex asset tracker virtually an indefinite field life until the batteries wear out or the plastic gets brittle after many years of exposure. The Flex is IP-67 rated so it is designed to withstand mother nature and provide reliable long-term GPS tracking. Devices using replaceable batteries require someone to locate, travel to and replace the batteries which adds labor cost to managing the GPS trackers in the field.